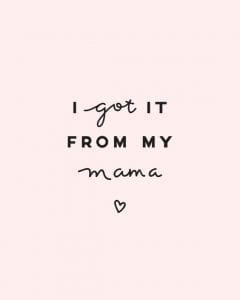 On Monday, my baby girl turns 3 years old. I have been busy planning her little celebration and reflecting on how much she has grown in the last year. She has truly found her voice and is not afraid to use it. She is extremely decisive, strong-minded, independent, and cheeky. I am both proud of the fire in her heart and terrified for what those teenage years might be like.
It a pretty common headline these days to find an article with a letter addressed to your younger self. With my youngest daughter, Ari, I feel like I am looking right at my younger self. She reminds me that is ok to be multidimensional; to be both tough and delicate; smart and playful; sugar and spice.
Sometimes we hate to admit it but the very thing the drives us mad about our girls are traits that define our own adult lives as well.
What is your daughter teaching you about yourself?
PS: It's almost here! Look out for this year's holiday gift guide in next week's newsletter.