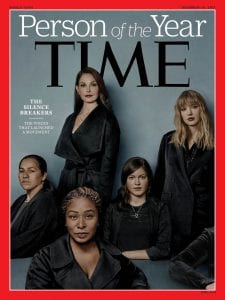 In an absolutely wonderful and powerful move yesterday Time Magazine unveiled it's 2017 person of the year and stunned the country by crowning the notable women who have set off a national reckoning by speaking up and naming names of men who have abused their power and sexually harassed and/or assaulted them.
They have indeed broken the silence on a very rampant and hidden culture in all different parts of the society. This honor does much to extend this now very loud national conversation and and hopeful leads to the setting of a new standard for acceptable behavior. Ultimately, validating the Silence Breakers is awesome for us, awesome for the future men you and friends are raising, and especially awesome for our girls.
In other news, this week is Hour of Code week! If you are not familiar, It is a global movement to introduce people of all ages to computer programming in a fun way. All you have do to is commit to an hour of fun. We have recommended the best resources in this week's newsletter to help you get started.