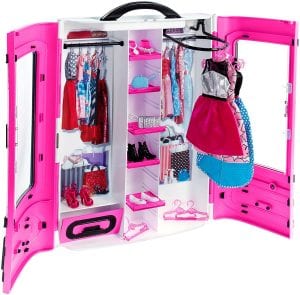 ---
Toy Name: Barbie Fashionistas Ultimate Closet, Pink
Age Group(s):
Description:

To get the fashion story started, Barbie dolls vibrant this pink Barbie closet is not only designed for portability with carrying handles, but it also comes with clothing and accessories for lots of storytelling fun wherever you are. Decorated with Barbie signature style, the vibrant pink closet features clear double doors for a peek into her wardrobe. The Barbie Fashionistas Ultimate Closet comes with trendy pieces that can be mixed and matched to create versatile looks. Two dresses are perfect for day or night with modern silhouettes, graphic prints, and fun colors. Three pairs of shoes, two necklaces and two purses can change a look in an instant. Dress Barbie doll to suit your style or story. Then try on a new outfit, and tell a new tale. Pick a new setting, and pack up the fun to go anywhere. Six hangars help keep fashions fashionable, and working drawers and cabinets are perfect for Barbie doll's amazing accessories. The Fashionistas Portable Barbie closet is ready to travel with you can be anything!
Barbie Fashionistas Ultimate Closet Portable Fashion Fun, Pink:
Age Range: 3 Years and Up
This portable Barbie closet has style inside and out with included fashions and accessories!
The pink wardrobe is decorated with lots of glam accents
Clear double doors give you a glimpse into Barbie's fun wardrobe
Real working drawers and cabinets store accessories
The two dresses included with each closet are perfect for day or night with modern silhouettes, graphic prints and fun colors
Three pairs of shoes, two necklaces, and two purses create different looks in an instant
A carrying handle is perfect for easy portability
Mix and match for fashion play and storytelling fun!