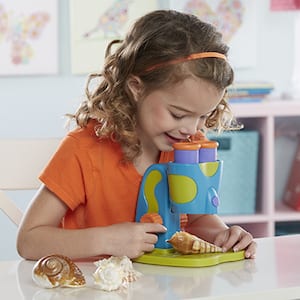 ---
Toy Name: My First Microscope
Age Group(s):
Description:

Designed by a scientist and mother of two preschoolers, My First Microscope allows kids to see a magnified hidden world with ease! This fully functional microscope is a real working science tool with two extra-large eyepieces and a chunky, kid-sized focusing knob. A bright LED with easy push-button action lights up details for even more discoveries.
Examine everything from a rock to a penny, stamp, or leaf in magnified 3-D with this fully functional dissecting microscope. Encourages an early love of scientific investigation and discovery!
The Nitty Gritty – Includes:
8x magnification
Microscope measures 7.3" x 5.8" x 7"
Two extra-large, one-size-fits-all eyepieces (no need to close one eye!)
Chunky, easy-to-use focusing knob
Large, fixed sample tray holds flat objects like stamps and coins OR 3D objects like bugs and rocks – no slides required!
Right-side up and left-right correct
LED light for enhanced viewing of small details
Requires 3 AAA batteries, not included