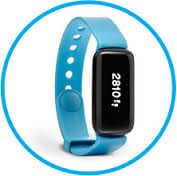 ---
Toy Name: UNICEF Kid Power Band - Kids FitBit
Age Group(s):
Description:

UNICEF Kid Power gives kids the power to save lives. By getting active with the UNICEF Kid Power Band, kids go on missions to learn about new cultures and earn points. Points unlock funding from partners, parents and fans, and funds are used by UNICEF to deliver lifesaving packets of therapeutic food to severely malnourished children around the world. The more kids move, the more points they earn, the more lives they save.
Students become more aware and engaged while learning critical skills that empower them to work together and become a generation of active global citizens.
Named by TIME Magazine as one of the "Best Inventions", the UNICEF Kid Power Band is the world's first Wearable-for-GoodⓇ,connecting activity to impact. 
Product Description
The UNICEF Kid Power Band is a one-size-fits-most fitness band that tracks both steps and movement. Get active while wearing the Kid Power Band, and your activity unlocks therapeutic food packets that UNICEF delivers to severely malnourished children.
Dubbed by many as a Fitbit for kids, the Kid Power Band lets you track daily activity with an easy-to-read touch screen. No GPS or location tracking in the Band.
Use the free companion app to sync the Band and track steps and impact. Compare your progress with friends and family, and cheer each other on!
Waterproof, with a kid tested design! Band battery lasts approximately 2 weeks and recharges in 1 hour; USB charging cable is included.
Go on in-app Missions and learn about countries and cultures around the world with the free Apple iOS and Android mobile app. One app can be used for the whole family or team. Manage multiple Bands from one device and organize individual profile information.