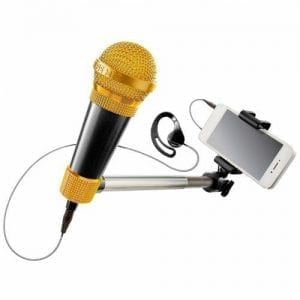 ---
Toy Name: SELFIE MIC Music Set
Age Group(s):
Description:

Sing like a star and create your own music videos with SelfieMic. SelfieMic features an adjustable selfie stick with a working microphone, earpiece, and free StarMaker app, which allows you to sing, lip sync and performs to thousands of your favorite songs, including tracks made famous by Ariana Grande, Taylor Swift, Justin Bieber and many more.
SelfieMic is suitable for smartphones up to the size of an iPhone 6 Plus (maximum width 85mm) and is ideal for recording solo performances, as well as group music videos. Once you have recorded your performances you can then share them with friends.
SelfieMic allows you to sing, lip sync and perform to thousands of your favorite songs and create music videos
Extendable selfie stick features a free bonus StarMaker app with 1,000 tokens to spend on your favorite tracks
Once you've chosen your song, you can select cool effects and filters, then you're ready to record. Once you've recorded your SelfieMic music video, you can share with family and friends.
Includes:
1 x earpiece
1 x extendable selfie stick
1 x mic
Made for ages 8 years old and up