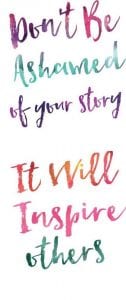 This past week has been so heavy with the breaking news of rampant sexual harassment in Hollywood. I have read many of the accounts from several of the brave women stepping up to tell their stories.
Lupita Nyongo's account published in the Wall Street Journal really struck a cord with me for two reason. First, her heartbreaking reason for not speaking up until now: "…I also did not know that there was a world in which anybody would care about my experience with him. You see, I was entering into a community that Harvey Weinstein had been in, and even shaped, long before I got there."
And the powerful reason she thinks she has not had this negative experience with anyone else in her career since Weinstein: "… I think it is because all the projects I have been a part of have had women in positions of power, along with men who are feminists in their own right who have not abused their power."
Womanhood desperately needs a culture of story telling and sharing. Too many of us secretly endure pain, hide scars, and smile hard. I can't help but think this begins at home.
What stories did our mother tell us? What stories will we tell our girls? How will we prepare them for what is ahead?  "Half of all American women—54%—have experienced "unwanted and inappropriate sexual advances" at some point in their lives. Nearly a third have endured such behavior from male colleagues and a quarter identified men with sway over their careers as the culprits." 
We need to be intentional about sharing our experiences and telling the stories about those hard worn scars. Because you have been there, your wisdom could light up the path to avoiding the same heartache for your daughter, your sister, your friend, maybe even a stranger.
Connecting through shared experiences, however awful the memories, is a beautiful way to lean on each other. EVEN IF all you are able to do is raise your hand and say, #metoo.