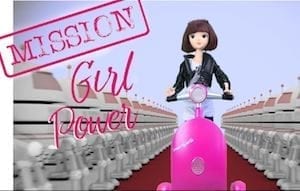 ---
Toy Name: Smart Gurlz Dolls
Age Group(s):
Description:

SmartGurlz is an acclaimed line of kid-friendly self-balancing robots and action dolls that both engage and encourage young girls to learn code. Connected via smartphone or tablet, SmartGurlz allows girls 6 and up to immerse themselves in Science, Technology, Engineering and Math (STEM) through interactive apps and games.
• ZARA- Our Zara doll is a best-selling fan favorite. She's the perfect doll companion for young girls as they learn to code. Zara loves technology, coding of all sorts, and comes with her own matching violet scooter. Zara is bound to find a hack that will help your kid learn coding.
• AS SEEN SHARK TANK-- SmartGurlz caught the Sharks attention after beating over 40,000 companies to make it on the show. Our award-winning toy engages girls 5 and up to learn about coding and programming languages and has been recognized by the BBC, Forbes, CNN, and Fox News for its work. Compatible with Android and IOS devices. Compatible with Android and IOS devices, break from the constraints of the classroom and computer to code.
• A CODE LESS TRAVELED- SmartGurlz uses dolls and a kid's friendly user app to interest young girls in coding. Break from the screen to teach young girls coding. SmartGurlz makes smart girls by creating the perfect doll and supporting app, teaching a coding and programming language kids can understand and enjoy.
• HACK TO THE BASICS- Download the user and kid-friendly Sugar Coded app to get started. Simply download on any smart device, and get to coding. Our Sugar Coded app provides multiple levels of play-- providing obstacles, missions, and adventures that can inspire any future engineer or app developer via simple user-friendly smartphone games.
• MISSION ACCOMPLISHED- Our breakthrough toy technology integrates the power of play with the power of technology. The Sugar Coded app provides e-books so you can learn about your character through a series of stories. Free-play lets you control the scooter using the direction pad or present commands. Using Path, you can draw a path and your doll and robot siggy and Zara will follow. Play and complete missions using coding to execute tasks. Inspire your girls, and groom the leaders of tomorrow.